Last Monday during the New England Patriots/ New York Giants game, a black cat ran on the field and Twitter was ablaze. There have been many moments where animals have interrrupted sporting events and caused animal interference. Here are some of the best of those moments:
Monday Night Football Black Cat: 
 © Star Tribune
During last week's Monday Night Football game between the Pats and Giants, a black cat ran on the field during the 2nd quarter. Almost a week later and MetLife Stadium employees are still working to catch him/her. They are trying to catch the cat so they can put it up for adoption. The cat wandered onto the field before touching down in the Giants' end zone. It then disappeared under a section of seats. The game was delayed for about five minutes. Whoever ends up adopting the cat better name them after a Patriots or Giants player, I'm just saying.
Oakland Coliseum Rally Possum: 
 © MLB.com
Back in 2014, the Oakland A's had a secret to their walk-off wins. His name? Rally Possum. He used to hang out over in the Coliseum's vast foul territory during the games. I wonder where he is now…
 © ARF
Evie was the name former A's Manager, Tony LaRussa gave the cat who ran on the field during a game back in 1990. When he tried to find a no-kill shelter in the Bay Area to give her too, he and his wife realized there wasn't one. So, they started the 'Tony LaRussa Animal Rescue Foundation (ARF)'. ARF still adopts out dogs and cats and is no-kill to this day in Walnut Creek, Calif.
 © NHL.com
What is it with black cats running onto playing surfaces?! Back in 2016, a cat dubbed 'Jo Paw-velski' by Sharks fans ran onto the ice during a game at SAP Center in San Jose. In the end, Jo was caught and adopted by Sharks veteran, Patrick Marleau and his wife and kids. She still has a Twitter account if you'd like to follow her.
Rocco's No. 2 at Dodger Stadium: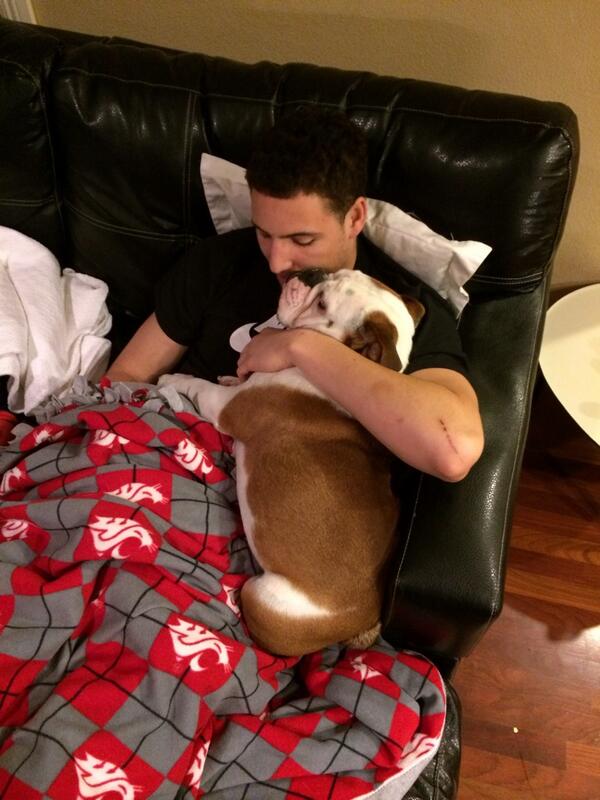 © Klay Thompson- Twitter
In 2016 when Golden State Warriors Splash Bro, Klay Thompson was being interviewed at Dodger Stadium, his beloved dog, Rocco decided to move into frame and do his business.
There have been so many instances of animal interference in professional sports. It is no doubt hilarious yet concerning when it happens. Here is a video containing a ton of those instances for your viewing pleasure. Adopt, don't shop!
What's you favorite moment of animal interference from the past?
Born and raised in the Bay Area. My life has revolved around sports- specifically the A's, Warriors, Sharks, and 49ers since I was a little girl. This May, I received my BA in Sports Journalism and Media Studies at San Diego State University… Go Aztecs!